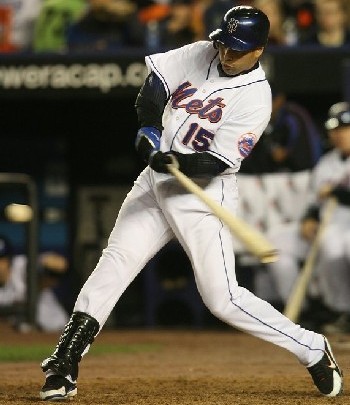 John Maine had another strong outing, though he was a bit wild. He gave up a career-high six walks, but thanks to two homeruns by Mets superstar Carlos Beltran, and another by David Wright, the Mets overcame some early struggles to beat the rival Braves 6-4.

Wright and Beltran drove in all 6 runs--it was a continuation of an amazing start for Beltran, and more sparks of life from DW, who has an outstanding .964 OPS over his last 7 games, with four extra-base hits in 26 at-bats.

I think it's safe to say that Wright is officially "back, " and Chipper Jones agrees.

"They're great players, man. They're hitting in the middle of that lineup for a reason," Atlanta's Chipper Jones said about Beltran and Wright.
John Maine provided a much needed strong outing--his second in a row--and his teammates and manager appreciated what he accomplished.
"I'm proud of Maine for what he did for us," Beltran said. "He struggled for a couple of innings and was able to adjust and give us an opportunity to get back in the game. That really shows he's giving everything he has. ... He didn't give up."
"He only lost it for an inning or two," Manuel said. "Then he made an adjustment and was able to throw strikes. That's batting."
Maine said he was motivated by a "good vibe" in the Mets' dugout.
"Nobody else gave up on me and it was a good feeling," Maine said. "I didn't give up on myself."
"It was a different kind of dugout today, which I like," said Maine, who allowed only three second-inning runs over six innings. "Everyone was really up, really wanting to win this one."
But even with the good vibe and the win, Maine, a thinking man's pitcher, knows he is not quite there yet.
"Walks are killing me," Maine said, adding he made an adjustment in his mechanics after the second inning. "It's about slowing myself down and not rushing myself."
How hot is Carlos Beltran? I will tell you...my fingers are burning just typing about him.
Beltran, hitting .400, was 2-for-3 with a walk and four RBI...the two home runs gave him four this season.
Mets manager
Jerry Manuel
said Beltran thrives by being more than just a pull hitter.
"He can be very, very dangerous to hit the ball to center field, left field," Manuel said. "It's a very, very good sign for him."
Beltran leads the National League with a .400 average and has reached base in all 24 Mets games this season, but he hadn't shown much power the first month.
"When it went out, it was good relief for us," Beltran said of his first homer.
Neither of Beltran's homers were pulled. Both went just to the left of center field.
"I'm seeing the ball good and letting the ball get deep," Beltran said. "I'm using the whole field. All my career, I've been a pull hitter. Using the whole field gives you a better opportunity."
"It's good to see the power," Manuel said.
The other hitting hero, David Wright, hit another two-run blast that gave him his 500th and 501st of his career. DW is now the seventh Met to reach the 500-RBI plateau.
In another good sign,
Carlos Delgado
returned and had a single. His sore right hip will hamper him all year, but he took healthy cuts and looked decent despite the layoff.
The Mets relievers were excellent. Bobby Parnell pitched a scoreless 7th, J.J. Putz came in and gave up one run on a Chipper Jones' home run in the eighth, and Francisco Rodriguez pitched a perfect ninth for his sixth save on the young season.
Go over and see
this piece from Metsradamus on Ollie's first night in the bullpen
. Prepare to laugh.
Over on Mets.com is a
good article on the Mets happiness in seeing Delgado back in action
.
DW is coming on strong.
DW 2009 Season Stats
SPLITS
G
AB
R
H
2B
3B
HR
RBI
BB
SO
SB
CS
AVG
OBP
SLG
OPS
Season
24
92
16
27
6
1
2
12
15
28
4
3
.293
.389
.446
.835
Career
727
2742
480
846
189
11
132
501
355
527
96
25
.309
.389
.530
.918
Last 7
7
26
3
8
2
1
1
6
4
8
2
1
.308
.387
.577
.964
Projected
162
621
108
182
41
7
14
81
101
189
27
20
.293
.389
.446
.835
Mack of Mack's Mets has some great writeups on our minor leaguers, including
Sean Ratliff winning SAL Player of the Week
!
OK my friends....Livan is on the hill tonight, so the bats must stay hot!
Enjoy your coffee!
Scoreboard
Final
1
2
3
4
5
6
7
8
9
R
H
E
N.Y. Mets (11-13)

«

0
0
0
0
0
4
2
0
0
6
8
1
Atlanta (11-14)
0
3
0
0
0
0
0
1
0
4
5
0
New York Mets

Hitters
AB
R
H
RBI
BB
SO
LOB
AVG
Jose Reyes, SS
4
1
1
0
1
0
1
.257
Daniel Murphy, LF
4
1
1
0
1
0
2
.316
Francisco Rodriguez, P
0
0
0
0
0
0
0
.000
Carlos Beltran, CF
3
2
2
4
1
1
2
.400
Carlos Delgado, 1B
4
1
1
0
0
2
1
.250
David Wright, 3B
4
1
2
2
0
1
0
.293
Ryan Church, RF
4
0
0
0
0
2
1
.286
Ramon Castro, C
4
0
0
0
0
1
1
.243
Luis Castillo, 2B
4
0
0
0
0
0
0
.344
John Maine, P
2
0
0
0
0
2
0
.000
a- Alex Cora, PH
1
0
1
0
0
0
0
.321
Bobby Parnell, P
0
0
0
0
0
0
0
.000
J.J. Putz, P
0
0
0
0
0
0
0
.000
b- Gary Sheffield, PH
0
0
0
0
1
0
0
.176
Jeremy Reed, LF
0
0
0
0
0
0
0
.273
Totals
34
6
8
6
4
9




a-singled for Maine in the 7th
b-walked for Putz in the 9th
Batting
2B - David Wright (6, Vazquez)
HR - Carlos Beltran 2 (4, Vazquez, Vazquez), David Wright (2, Vazquez)
RBI - Carlos Beltran 4 (18), David Wright 2 (12)
2-OUT RBI - Carlos Beltran 2 (6)
SB - Jose Reyes 2 (6, 2nd base off Vazquez/Ross, 2nd base off J. Bennett/Ross)
CS - Gary Sheffield (1, 2nd base by J. Bennett/Ross)
Team LOB - 5
Fielding
DP - Reyes-Castillo-Delgado
E - Luis Castillo (2, Throwing)
New York Mets

Pitchers
IP
H
R
ER
BB
SO
HR
ERA
John Maine

(W,2-2)

6
3
3
3
6
7
0
5.20
Bobby Parnell

(H,5)

1
0
0
0
1
0
0
1.46
J.J. Putz

(H,6)

1
2
1
1
0
2
1
3.60
Francisco Rodriguez

(S,6)

1
0
0
0
0
1
0
1.69
Pitches-Strikes - John Maine 100-59, Bobby Parnell 13-6, J.J. Putz 20-15, Francisco Rodriguez 11-8
Ground Balls-Fly Balls - John Maine 4-6, Bobby Parnell 1-1, J.J. Putz 1-0
Batters Faced - John Maine 26, Bobby Parnell 3, J.J. Putz 5, Francisco Rodriguez 3