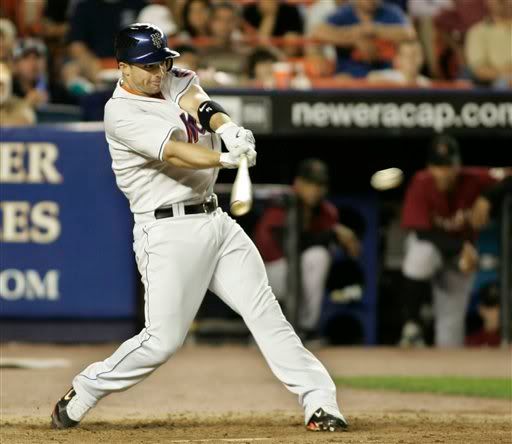 I was going through some baseball records this morning; specifically, the doubles and triples records, and something caught my eye.

As we all know, David Wright just had his fourth consecutive season with 40 or more doubles.

From what I can gather, the major league record for consecutive 40 or more doubles in a season is seven.

Wade Boggs had 40 or more doubles in a season from 1985 to 1991.

Joe Medwick, one of the games all-time great hitters, also had seven in a row from 1933 to 1939.

Todd Helton had five in a row from 2003 to 2007.

David Wright is next at four, and he is the only one with an active streak of more than two seasons.

Multiple Seasons with 50 Doubles
Player
Seasons
Seasons & Teams
Tris Speaker

[

4

]

5
1912 Boston (AL); 20-21, 23, 26 Cleveland
Paul Waner

[

5

]

3
1928, 32, 36 Pittsburgh
Stan Musial

[

6

]

3
1944, 46, 53 St. Louis (NL)
George H. Burns

[

7

]

2
1926-27 Cleveland
Chuck Klein

[

8

]

2
1930, 32 Philadelphia (NL)
Charlie Gehringer

[

9

]

2
1934, 36 Detroit
Billy Herman

[

10

]

2
1935-36 Chicago (NL)
Joe Medwick

[

11

]

2
1936-37 St. Louis (NL)
Hank Greenberg

[

12

]

2
1934, 40 Detroit
Edgar Martínez

[

13

]

2
1995-96 Seattle
Craig Biggio

[

14

]

2
1998-99 Houston
Todd Helton

[

15

]

2
2000-01 Colorado
Nomar Garciaparra

[

16

]

2
2000, 02 Boston (AL)
Albert Pujols

[

17

]

2
2003-04 St. Louis (NL)
Seven Seasons with 40 Doubles
Player
Seasons
Seasons & Teams
Tris Speaker
10
1912, 14 Boston (AL); 16-17, 20-23, 26 Cleveland; 27 Washington (AL)
Stan Musial
9
1943-44, 46, 48-50, 52-54 St. Louis (NL)
Harry Heilmann

[

18

]

8
1919-21, 23-27, 29 Detroit; 30 Cincinnati
Wade Boggs

[

19

]

8
1983, 85-91 Boston (AL)
Napoleon Lajoie

[

20

]

7
1897-98 Philadelphia (NL); 1901 Philadelphia (AL); 03-04, 06, 10 Cleveland
Rogers Hornsby

[

21

]

7
1920-22, 24-25 St. Louis (NL); 28 Boston (NL); 29 Chicago (NL)
Lou Gehrig

[

22

]

7
1926-28, 30, 32-34 New York (AL)
Charlie Gehringer
7
1929-30, 32-34, 36-37 Detroit
Joe Medwick
7
1933-39 St. Louis (NL)
Pete Rose

[

23

]

7
1968, 74-76, 78 Cincinnati; 79-80 Philadelphia (NL)
Craig Biggio
7
1993-94, 98-99, 2003-05 Houston
Todd Helton
7
2000-01, 03-07 Colorado