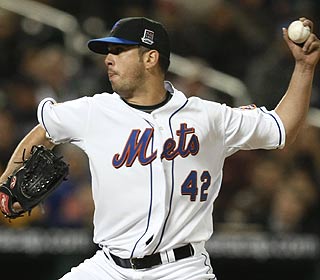 Ollie Perez had his good stuff last night, and the results were outstanding.

6 IP, 3 H, 1 ER, 2 BB, 4 K

And the most important stat of all, a 'W' for his team, their first in their new home.

Perez mixed in a darting fastball with breaking pitches that consistently found umpire Paul Emmel's large strike zone.

In Ollie's first start, against Cincinnati last week, he gave up eight runs and five walks in 4 1/3 erratic innings. This time he maintained his composure, looked focused and determined (even during his own at-bats), and led his team to the win.

"Like I've always said, Oliver seems to throw some of his best games after some of his worst," Wright said.

As Jerry Manuel said (quote from the NY Post): "Tonight really wasn't [Perez's] best stuff, once that comes at 94-95 [mph] with off-speed pitching, he should be what we think he should be, somewhat dominating."

"It was a tremendous performance by Oliver," Manuel added. "We needed a good performance by him, and hopefully he's on his way to some good things."

Brian Costa, in NJ.com, had the following from Ollie: "I feel a little bit better," Perez said. "And I started feeling more comfortable, because I have to throw all my pitches, because sometimes you don't have a good fastball. That's why you have to use other pitches. I threw a really good changeup today. My slider was good, and everything was working good."

The offense, which has been up and down so far in this short season, looked good.

Gary Sheffied got the start in right. Though Sheff grounded into a double play with the bases loaded, he did manage to draw a walk and score a run.

Carlos Delgado went 2 for 3 and hit a monstrous homerun to right.

In one of the strangest plays I have ever seen, Jose Reyes scored from first base on a wild pitch. Reyes broke for second with the pitch in an attempt to steal, and the ball got by the catcher. Reyes, who never broke stride, scampered to third, rounded the bag hard, and raced home. It was certainly a play Jackie Robinson would have smiled about.

Bobby Parnell and JJ Putz followed Ollie, each pitching a scoreless inning. Sean Green pitched the 9th and gave up one run to close out the game.

In the one bit of bad news from yesterday, Mets #2 starter Mike Pelfrey has been diagnosed with tendinitis.

Joshua Robinson from the NY Times writes: A magnetic resonance imaging scan Tuesday revealed that the stiffness he had experienced for about a month was in fact forearm tendinitis. And the impact of that injury may be felt much longer than Wednesday night's result.

Neither Pelfrey nor Manager Jerry Manuel ruled out Pelfrey's taking his regular turn in the rotation Sunday against the Milwaukee Brewers. But Manuel said that the coming days would be telling. Forearm tendinitis is an injury that sometimes comes with ominous connotations, the result of a player's compensating for more serious damage to his shoulder or elbow.

Still, Manuel seemed reassured by the knowledge that Pelfrey, who is taking anti-inflammatory medication, had been through similar discomfort before.

In Pelfrey's impressive 2008 campaign, he went 13-11 with a 3.72 earned run average. He pitched more innings than ever before in his young career and impressed Manuel enough to earn the No. 2 spot in the Mets' rotation this year.

But his first two starts this season have left him with an 8.10 E.R.A. and some questions over last year's workload. In 2007, he threw 152 2/3 innings between the minors and the majors before obliterating that number in 2008 by tossing 200 2/3 at age 24.

"It seems like the more pitches I throw, the worse it gets, the weaker it gets," Pelfrey said before Wednesday's game.

But all in all it was a great night.

Great signs from Ollie, great signs from Delgado and the table-setters at the top of the lineup, another strong outing by the bullpen, and the Mets first win at Citi Field.

Enjoy your coffee!


New York
O. Perez
IP
6.0
H
3
ER
1
BB
2
K
4



Game Information
Attendance - 35581
Game Time - 2:57
Temperature - 48
Umpires - Home - Paul Emmel, First Base - Gary Darling, Second Base - Bill Hohn, Third Base - Bruce Dreckman