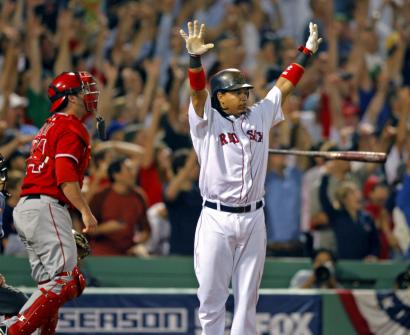 It's interesting to see the Manny and Dodger dynamic play out.

At what point will one side blink?

What is the real number that Manny will sign for?

How do you value him?

Let's state the obvious up front--Manny had a great 2008:


2008 Season Stats
SPLITS
G
AB
R
H
2B
3B
HR
RBI
BB
SO
SB
CS
AVG
OBP
SLG
OPS
Season
153
552
102
183
36
1
37
121
87
124
3
0
.332
.430
.601
1.031
BUT (there is always a but), in
2006 and 2007 he only played in 130 and 133 games, with a total of 55 HRs and 190 RBIs for those two seasons
. His .881 OPS in 2007 is "good", but it sure isn't $20M+ good, and his latest trending 2006-2008 stats, not including his great 53 games with the Dodgers, doesn't approach $25M a year in value.
He also turns 37 in May--flag.
So in essence, there is a cognitive dissonance with Manny--fact vs fantasy.
Manny and Boras want to be paid for 2008 productivity, and GMs want to pay Manny for 2006-2008 productivity.
Our friends at FanGraphs put Manny's 2007 value at $5.0M a year, and his 2008 at $28.3M a year. Camp Manny wants him paid for 2008, but GMs are far smarter than they were a few years ago (not including
Brian Cashman
), and they know Manny is just not worth $25M a year, even for 1 year, hence ths standstill.
Tim Brown at Yahoo reports the following:
Los Angeles Dodgers general manager Ned Colletti went a second day without talking to the agent for Manny Ramirez.

In a Friday night conference call arranged to announce the signing of left-hander Randy Wolf, questions ran about two to one in favor of Ramirez.

Colletti said he hadn't spoken to Scott Boras since Wednesday and had no negotiations scheduled, now three days since Ramirez rejected a one-year, $25 million contract offer from the Dodgers.

"At some point in time we will come to a conclusion," Colletti said. "We're not there yet."

Asked if the club would continue a dialogue beyond the day position players were due to arrive in camp, which for the Dodgers is Feb. 18, Colletti declined to answer.

"I'd be putting a deadline on it if I answered that question," he said.
So how do the
Mets
fit in, or do they? There was some chatter last night from Tony Paige that the Mets are still a player in the Manny sweepstakes.
While the door may not be 100% shut, it's close. Unless Boras comes to the Mets with something right at $20M a season or less, there is zero chance he comes to Queens.