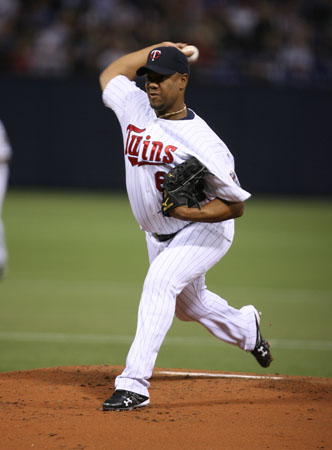 Here is another piece from my friend Ravi, who is doing what many Mets fans are these days--pondering the 5th starter conundrum.

Enjoy!

--Dave

Tales from the Picnic Seats: Who should be the 5th Starter?

With 25 days to go (!!) until Opening Day, the Mets roster is fairly set.At this point, all that is left is to fill a spot on the bench, in the bullpen, but most importantly, the #5 spot in the rotation.Over the last two years, the Mets have had terrible performance out of the 5 spot – In 2007, the first win from the #5 pitcher came in September, via
Mike Pelfrey
.
In 2008, the #5 starter was a hybrid of
Jorge Sosa
, Nelson Figeroa,
Tony Armas Jr.
, Brandon Knight,
Jon Niese
, and likely a few guys I have missed – and when you lose out on October by one game both seasons, it becomes a fairly significant issue.
This brings me to the Mets topic de jour: should the Mets bring back Pedro.Many people are clamoring for Pedro, after a strong showing in the WBC, as well as struggles with all of our current 5th starter candidates.
Personally, I say take these WBC/Spring Training stats with a grain of salt. First off, Pedro had strong showings against the baseball power house known as the Netherlands. While they did make it to round two, these guys did it on the strength of their pitching, and some luck, as they won their first game against the DR without scoring an earned run, and had only one earned run (out of two) in their second win. In addition, reports say that Pedro has gotten his fastball up to 90-92mph.
Of course, realize that stadium guns are far from accurate, and as he is on a strict pitch count, allowing him to throw harder, then he normally would. In addition, for all the comments Pedro has made about being healthy, etc, he has said the same thing since 2007.
That being said, there were some people –myself included- calling on the Mets to bring back Pedro, even before the WBC. I thought that Pedro for sure could out produce the other guys. Then a funny thing happened. I looked at last year's stats for Livan, Redding and Pedro, and was very surprised. See if you can figure out who is who. It should be noted that I disregarded Livan's stats in Denver last year, as he is a breaking ball pitcher, and as we know, that approach simply does not work in
Coors Field
.
Pitcher A: 182ip, 4.95era, 1.43whip, 5.93k/9, 1.85 k/bb, 27hr's, .786ops against
Pitcher B: 109ip, 5.62era, 1.57whip, 7.18k/9, 1.98 k/bb, 19hr's, .847ops against
Pitcher C: 139.2ip, 5.48era, 1.63whip, 3.48k/9, 1.56k/bb, 18hr's, .892ops against
All are fairly similar lines.
Pitcher B is Pedro--identifiable by the high K-rate, but that is the only stat in which he excels against the others. Pitcher A is
Tim Redding
, while Pitcher C is Livan Hernandez.
Note that those are Livan's AL stats.
To get him on equal footing, one must make adjustments moving from the AL to NL, Hitter's park to Pitcher's park, and Turf to Grass surface.
After making the proper adjustments, I would rank the three in this order: Redding (by a hair), Livan, Pedro.
However, we also must consider the reliability of each pitcher. I am confident that Redding and Livan can make around 30 starts, while Pedro would likely be lucky to make the 20 he made last year.
However, I am not ready to appoint Tim Redding the 5th starter. Here's why.
Another weakness of the 2007-8 teams have been short stints by starters over working the bullpen. The two biggest culprits of this are
John Maine
and Oliver Perez, the two pitchers who precede the #5 spot.
It is important to have a guy who pitches deep into games, to help preserve the pen. With this starter, followed by Johan, the pen would have in theory, two straight games with a lighter load. In 2008, Tim Redding averaged under 5.2 innings/start, which would expose the weak underbelly of pen for over 1 inning of work, before the Putz/K-Rod duo.
Livan on the other hand, went about 6.1 innings/start, leaving 2 outs to the middle relief, before giving way to the back end of the pen. Surely that number would increase slightly (2 more outs/game wouldn't be a stretch, as you are adding at least 2 AB's by the opposing pitcher) with the transition to the NL.
Personally, I have reached the conclusion that either Livan or Redding would do fine in the # 5 spot. Given the contract situations of both Redding and Hernandez, I would think that the optimal alignment would be Livan in the rotation, and Redding as the long man. If not, you have Redding as the 5th starter, with a guy like Brandon Knight as the long reliever, and Livan either waiting in the wings, or with another club. I doubt he'd accept a bullpen job.
Remember, out of 5th starter role, the Mets need reliability, and something close to league average. Their offense is strong enough to score 4-5 runs/game against the other teams 5th starter.
With Pedro, it's all about the upside.
IF
he is indeed able to get his velocity up to the low 90's, and stay healthy, he is much better than your typical number 5. However, that is a big if.
With other question marks surrounding this team, steady performance from the 5th spot is important, and unfortunately, that is one thing that we cannot count on from Pedro.
**Edit:
3/13/09
: So I wrote the above post two days ago. However, after seeing Reyes' comments this morning -not sure why, but I 100 % believe any word he says- and with Redding's performance this afternoon, the Pedro thing is growing on me. I believe in him just as the next guy. However, once I think about it rationally, I still think that Livan is the best choice.