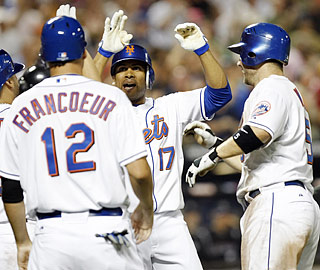 Well, well, well....3 "wells" and 3 wins in a row from a team that has suddenly found new life.

The Mets are now 10-12 in July and stand 6.5 games back in the wildcard race.

It was a very strong win highlighted by the continued hot streak of Luis Castillo (2 for 3 with a walk), another RBI from the rejuvenated Jeff Francoeur (homered and drew his first Met walk--an intentional one), a strong bullpen effort in relief of Ollie Perez (the bullpen went 4 inning with no runs, no walks, and 5 Ks), and the big hit of the night--a Grand Slam by Fernando Tatis.

Tatis has had more than his share of struggles this season and hit into double plays at an embarrassing clip, but last night he wanted a fly ball, needed a fly ball, had to have a fly ball--and he got one--a really big fly. "I was just trying to hit a fly ball," Tatis said, "and it happened."

The bottom line for this team is that they are hitting and pitching well, and winning a bit, which in turn has energized the entire roster....they are having fun again.

The Mets have a real chance to keep the momentum going throughout this homestand and start the process of leapfrogging a few teams in the wildcard standings. That will be their guiding star to succeed.

There is plenty of baseball left--this team has a shot.


| | | | | | | | | | |
| --- | --- | --- | --- | --- | --- | --- | --- | --- | --- |
| Team | W | L | PCT | GB | E# | L10 | STRK | LAST GAME | NEXT GAME |
| Colorado | 54 | 45 | .545 | - | - | 6-4 | L1 | 7/27 @ NYM, L 3-7 | 7/28 @ NYM, 7:10P |
| San Francisco | 53 | 46 | .535 | 1.0 | 63 | 4-6 | W1 | 7/27 vs PIT, W 4-2 | 7/28 vs PIT, 10:15P |
| St. Louis | 54 | 48 | .529 | 1.5 | 61 | 4-6 | W1 | 7/27 vs LAD, W 6-1 | 7/28 vs LAD, 8:15P |
| Atlanta | 51 | 48 | .515 | 3.0 | 61 | 7-3 | W1 | 7/26 @ MIL, W 10-2 | 7/28 @ FLA, 7:10P |
| Florida | 51 | 48 | .515 | 3.0 | 61 | 6-4 | W1 | 7/26 @ LAD, W 8-6 | 7/28 vs ATL, 7:10P |
| Houston | 50 | 49 | .505 | 4.0 | 60 | 5-5 | L3 | 7/27 @ CHC, L 1-5 | 7/28 @ CHC, 8:05P |
| Milwaukee | 49 | 50 | .495 | 5.0 | 59 | 3-7 | L2 | 7/27 vs WSH, L 6-14 | 7/28 vs WSH, 8:05P |
| NY Mets | 47 | 51 | .480 | 6.5 | 58 | 5-5 | W3 | 7/27 vs COL, W 7-3 | 7/28 vs COL, 7:10P |
| Cincinnati | 45 | 53 | .459 | 8.5 | 56 | 3-7 | W1 | 7/27 vs SD, W 6-4 | 7/28 vs SD, 7:10P |
| Pittsburgh | 43 | 56 | .434 | 11.0 | 53 | 4-6 | L3 | 7/27 @ SF, L 2-4 | 7/28 @ SF, 10:15P |
| Arizona | 43 | 57 | .430 | 11.5 | 52 | 5-5 | L1 | 7/27 vs PHI, L 2-6 | 7/28 vs PHI, 9:40P |
| San Diego | 38 | 62 | .380 | 16.5 | 47 | 2-8 | L3 | 7/27 @ CIN, L 4-6 | 7/28 @ CIN, 7:10P |
| Washington | 31 | 68 | .313 | 23.0 | 41 | 5-5 | W3 | 7/27 @ MIL, W 14-6 | 7/28 @ MIL, 8:05P |